MANHATTAN, Kan. – Eli Drinkwitz insists he is to blame.
When a loss like this happens in week two of season three, no one is going to pull a hamstring rushing to disagree.
Mizzou's first visit to an old Big 12 foe's home field since the Tigers joined the SEC became a bruising lesson delivered with blunt force.
Drinkwitz's Tigers right now are indeed the team that was picked to finish sixth in the SEC East. An opponent picked to finish fifth in the Big 12 just proved it in every phase of football.
So much for flexing SEC strength. The version of Mizzou that showed up at Bill Snyder Family Stadium will not just get pummeled in the SEC. It would get punked in the Big 12. It would get pushed around in the Sun Belt, certainly by Drinkwitz's old Appalachian State team that just stunned Texas A&M.
Perhaps with the most depressing timeout witnessed in recent memory. Desperate for something positive to take from a game his team trailed by 34 points with five seconds left, Drinkwitz during his team's only trip to the red zone called a TO before a third-and-goal on the Kansas State 3-yard line. He wanted to buy time for a garbage-time touchdown.
In a surprising twist, participation trophies were not handed out after that score.
Look, there is no shame in losing to Kansas State. Not for those who pay attention. Chris Klieman is a good coach and those who tuned out the Wildcats since the Tigers relocated to the SEC likely talked themselves into unrealistic expectations entering this game. I didn't arrive thinking Mizzou would win. I did arrive thinking they would compete. Wrong.
A 40-12 loss looked worse than the score.
Positivity that bubbled during Mizzou's solid week-one handling of Louisiana Tech did not travel and soon came apart like wet napkins discarded on concourse concrete. The Wildcats were better on offense, better on defense, better on special teams. They were stronger in the trenches and more skilled at the skill positions. They played harder. They were coached better.
Drinkwitz shouldering the blame was the key talking point after the loss.
The other was the coach and his players insisting one game doesn't define a season.
That's up for them to prove. Drinkwitz has so much to fix.
The bulk of Saturday's issues – the defense was not great but not close to the biggest problem – are squarely on the play-calling head coach and his offense. There is nowhere else to look now.
Please, enough of this chatter about Drinkwitz needing to hire an offensive coordinator. If you want a coaching change, just call for that. But let's stop pretending an offensive-minded coach who was hired to run his offense is going to suddenly pivot away from that. Especially during a season. Drinkwitz and his offense di lui are either going to work at Mizzou, or not.
Did I mention he has so much to fix?
A solid week-one showing from starting quarterback Brady Cook was eroded by a two-interception game that included multiple misplaced passes that were not picked off. Backup Jack Abraham got a shot after Cook got battered, and he managed to throw two interceptions in three attempts. Back in came Cook, not ballyhooed freshman Sam Horn.
Drinkwitz after the game insisted Cook is the starter moving forward. I asked him if he considered playing Horn. If the kid understands the offense well enough and is physically capable for this level, expediting the QB timeline could be the best option.
This team's biggest fear has stirred. If ex-QB Connor Bazelak transferred out and the hunt for incoming Power Five transfers didn't work out, what is this team left with if Cook doesn't thrive? You saw the worse-case scenario Saturday. Drinkwitz was labeled as a quarterback whisperer by the national types during his ascent to this job. Time to start whispering. Saturday needs to be a low point at QB.
Cook was constantly scrambling for his life behind an offensive line that was more porous than blue jeans in Saturday's monsoon. So much is made of Drinkwitz's recruiting, but this O-line is lacking. It is paired with a potential quarterback question and three running backs who on Saturday combined to total 32 yards on 21 attempts. The line has to get better. Receivers are going to have to lead the way. The quarterback (s) are going to have to get them the ball. Star freshman Luther Burden was targeted only four times in the loss. He dropped one pass and declined to lay out for another. He still has to get more touches. We didn't see him in the wildcat once against the Wildcats. Why not? It's not like the other stuff was working.
Kansas State just looked better prepared Saturday, which is too often a trend for Drinkwitz's teams on the road. The Tigers are now 2-9 away from home during his 12-13 start. Saturday's in-game lightning delay tried to save Mizzou's offense from one of its three-and-outs. The Tigers still wound up punting the ball away once play resumed. Kansas State ran it back for a 76-yard touchdown.
Mizzou had two extra days to prepare for this game after playing last Thursday. It had a nearly hourlong in-game delay. Kansas State annually has some of the best special teams play in the nation. A special-teams score can't happen. And it did.
The Tigers have to get better play from the quarterback position. They have to figure out how to bring a better product on the road. They have to better blend what they have to cover up what they don't.
They aren't bad enough to lose to Abilene Christian next weekend, but on Saturday they were bad enough to lose every single road game this season. The only positive thing to take from this one is a reality check. Solid teams won't just beat up on Saturday's version of the Tigers. They will leave them black and a Kansas State shade of purple.
"It starts with me," Drinkwitz said. "I have to do a much better job being prepared. I have to get more out of our football team than I did today. "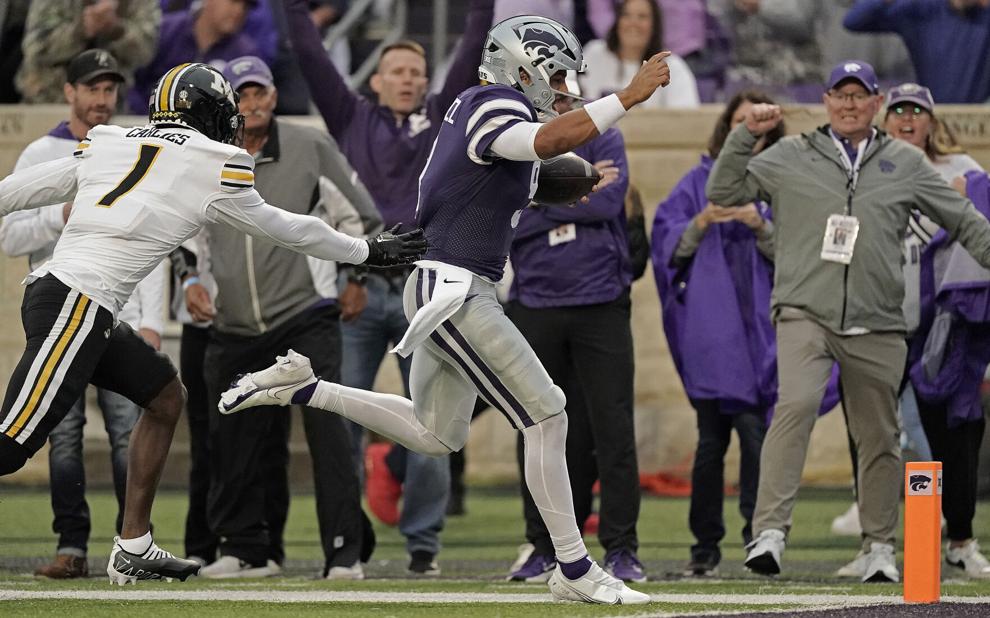 .